What We Do
Dolly Parton's Imagination Library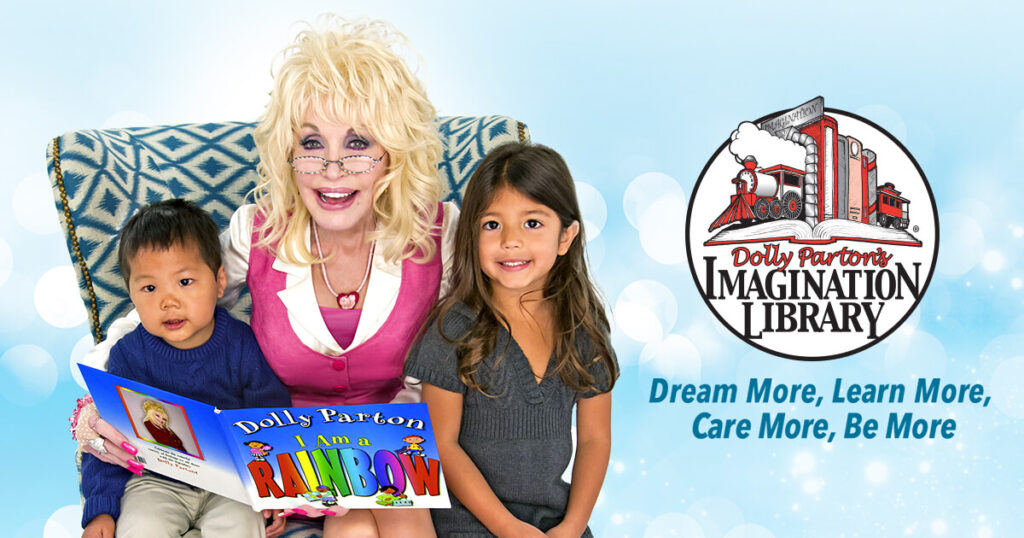 Since 2017, Kiwanis Club of Canby has sponsored Dolly Parton's Imagination Library for children under the age of 5 who live in the Canby School District. We currently send a free book each month to about 800 children, and another 900 have "graduated" on their fifth birthday. Our volunteers reach out to new families throughout the year by hosting sign-up tables at community events. We also partner with Canby Public Library to promote Imagination Library (and reading in general) during story times and other library events.
Scholarships for Canby High School Seniors
Each year, high school seniors are invited to apply for scholarships from Kiwanis Club of Canby. The application process is facilitated by the Canby High School online application process in the counseling center. In 2023, the club provided $30,000 for college study as well as for certified trade schools. Unlike many scholarships, those of Canby Kiwanis focus on community service as well as good grades. Our goal is to inspire and reward a love for helping others.
CARE Awards in the Canby School District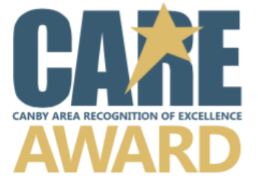 The Canby Area Recognition of Excellence Award is a Canby Kiwanis program started under the leadership of Matt Olsen in 2012. Community members, parents, and other school staff are encouraged to nominate a teacher or support person whose work has gone above and beyond to support students. A committee of Kiwanians and community members then selects a recipient monthly during the school year. Current committee members are Kiwanians Bob Hill, Marilyn Wood, and Mike Zagyva, with the community represented by Randi Clark of Umpqua Bank, and Kelsey Cordill of Cutsforth's Market.
Each winner is surprised during the school day with a visit to their school, and then attends the next school board meeting to receive further recognition, including a plaque and a basket of gifts donated by local businesses.
Special thanks to Umpqua Bank (formerly Columbia Bank), our major partner, and to these businesses who provide gifts for the CARE Award baskets: Backstop Bar & Grill, Cutsforth's Market, DirectLink, Gwynn's Coffeehouse, Matt Olson Insurance, Odd Moe's Pizza, Puddin' River Chocolates, Rice Time, Swan Island Dahlias, The Book Nook, Wayward Sandwiches, and Wild Hare Saloon.
Clackamas 4-H/FFA Junior Livestock Auction
As one of the founders of this Clackamas County Fair event, Kiwanis Club of Canby provides financial support to reward students for their work in raising livestock to auction at the fair.
Earth Day
Starting as a drive-through pick-up event during the pandemic, our Kiwanis Earth Day event now brings kids to town on Earth Day for activities, book giveaways, prizes, and fun.
Birthday Bag Project
Canby Kiwanis collects donations of cake mix, frosting, candles, and party supplies in a birthday gift bag and makes a "party to go" available to children through The Canby Center — because every child should be celebrated on their birthday!
Regional Kiwanis Projects
Kiwanis Club of Canby supports the Kiwanis Doernbecher Children's Cancer Program (KDCCP) as well as Mt. Hood Kiwanis Camp through financial and volunteer support. The KDCCP programs provides fellowships for physicians' residencies at OHSU to work on solutions for children's cancers. Mt. Hood Kiwanis Camp empowers children and adults with disabilities with the opportunity to thrive in a true camp experience.
Service Learning Sponsorships
Scout Troop 258 and Cub Scout Pack 503
Canby Kiwanis has sponsored Scout Troop 258 since 1938 and as a sponsor provides financial support for use of the A-frame Scout Building in Community Park, a long-time Canby tradition.
Key Club
Our Kiwanis club supports a Key Club at Canby High School. Key Club is one of the Kiwanis family of clubs for service learning. Working with a staff advisor, Kiwanis members mentor students with service projects, provide leadership and service opportunities, and accompany members to conventions and learning opportunities.
Kiwanis Builders Club Sponsor
Service learning for middle schoolers happens at the middle school level through Builders Club, which Canby Kiwanis supports at Bakers Prairie Middle School. Our goal is to lead through example, so kids feel empowered to do great things in their communities. Kiwanis members support service projects, facilitate the Builders Club meetings, and mentor students.
Kiwanis Terrific Kids Sponsor
At the elementary school level, Kiwanis Club of Canby honors student achievement through their deeds and actions at school. We currently sponsor Kiwanis Terrific Kids at Lee, Eccles, Knight, Trost, Carus and 91 elementaries.