Meetings & Events
Are you interested in learning more about our club? Why not attend a lunch meeting or join us in volunteering at one of our upcoming community service projects? We'd love to meet you!
Upcoming Events
June 1, 2023 – Visit our table at CANBY"S FIRST THURSDAY from 5 to 8 p.m. We'll be on the sidewalk near the Book Nook, promoting our Dolly Parton's Imagination Library program, handing out information on the Library's Summer Reading Program, and talking about Kiwanis membership.
July 4, 2023 – Visit our booth at Wait Park during the CANBY'S INDEPENDENCE DAY CELEBRATION. Sign pre-schoolers up for Dolly Parton's Imagination Library, learn about Kiwanis, and let your kiddo pick a free book.
July 22, 2023 – Come see our booth with art activities for kids at Canby Arts Association's THROUGH THE LOOKING GLASS ARTS FESTIVAL in Wait Park downtown.
August 15, 2023 – The CANBY KIWANIS KIDDIE CAPERS PARADE is the kick-off event to the Clackamas County Fair. Kids dress in costumes or decorate a float, bike, or pet, and march through Canby to enter the fairgrounds.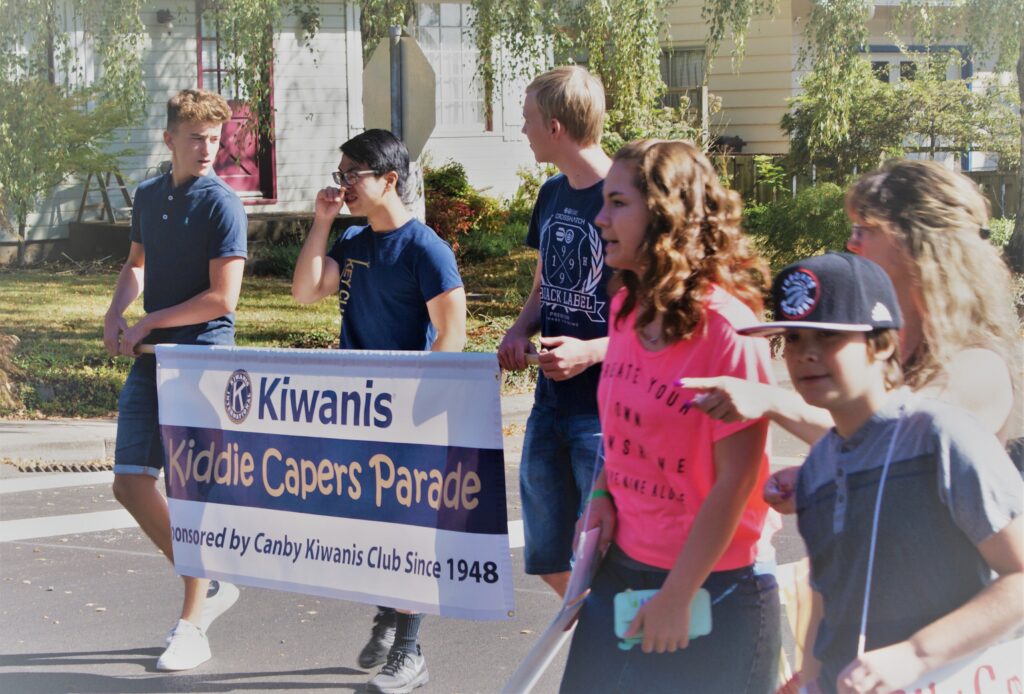 Club Meetings
Mondays at Noon, Cutsforth's Town Hall
Lunch is $15; attendance fee is $2 if not having lunch.
Prospective members get their first lunch free.
June 5
City of Canby Parks & Recreation Board, Barry Johnson
June 12
Canby High School Scholarship Winners
June 19
Mallory Gwynn gardening talk on weeds
June 26   TBA
July 3   TBA
July 10
Club activity – assembling art projects for Arts Festival
July 17 TBA
July 24
Dave McDonald from the Mt. Hood Kiwanis Camp
Board & Committee Meetings
June 8, July 6, August 10, September 7
9 a.m. Thrift Store Committee
Edward Jones/Brandon Chase, 294 NW 2nd Ave Suite A, Canby, OR 97013
12 p.m. Club Administrative Board
Canby Utility Board, 1265 SE 3rd Ave, Canby, OR 97013
1 p.m. Foundation Board
Canby Utility Board, 1265 SE 3rd Ave, Canby, OR 97013